about
KOCCA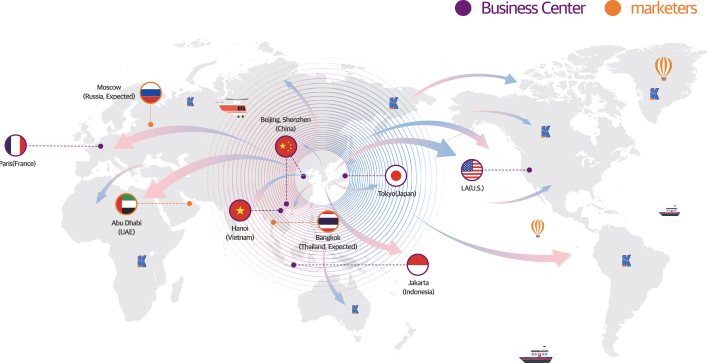 KOCCA Introduction
The Korea Creative Content Agency (KOCCA), a governmental agency that oversees and coordinates the promotion of the Korean content industry, was established in May 2009 by integrating five related organizations, including the Korean Broadcasting Institute, the Korea Culture & Content Agency, and the Korea Game Agency.

KOCCA is headquartered in Naju, the so-called "culture and art city" of Jeolla Province, which is also known for its abundance of white pear flowers in full bloom every March.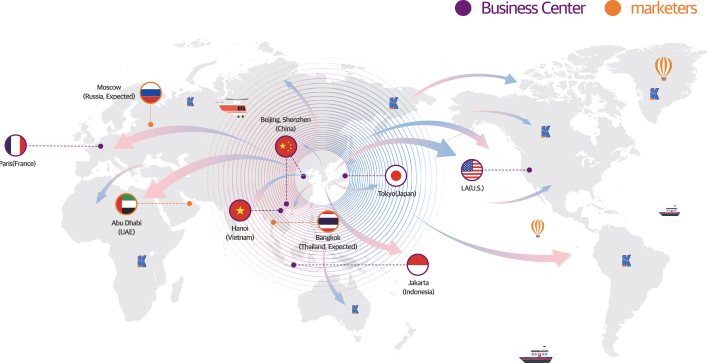 Greeting
Greetings!

It has almost been 10 years since the KOCCA was integrated and founded in 2009 under the national vision of 'becoming the world's 5 greatest content powers'.

During the meantime, a lot of new things have been happening. The sales of the South Korean content industry used to be only 67 trillion KRW and now it has grown to 110 trillion KRW over the period of time.

The amount of export of the content industry, which was only $2.6 billion, has grown to $6.7 billion. Additionally, the domestic and foreign environments around the South Korean content industry have improved beyond our imagination. It means that the role and the responsibility of the KOCCA have become more important.

We have carefully examined ourselves - whether KOCCA has fulfilled its role and responsibilities and whether we have neglected the changes and developments or not.

We will make ourselves new again.
We will actively seek after our responsibilities and fulfill our duties to enrich everyone's daily life with contents.

We will listen to the smallest voice in the field to create a people-oriented content industry that focuses on fair, mutual benefit, communication, and empathy.

We will enhance the global competitiveness of the South Korean content industry through new Korean wave strategy focusing on new contents. We will increase the diversity of the content industry and contribute to the balanced development of regions by actively cultivating the local contents industry.

The 4th Industrial Revolution will shift the paradigm of the content industry completely. The KOCCA will provide active support to the South Korean content industry so we can adjust to this gigantic shift. We will be the agency that people can trust and that the content industry supports.

Please do not hesitate to reach us for any feedback about our performance in the future.

Thank you.
Mission & Vision
Mission
Realizing a people-centric content industry of fairness, coexistence, communication, and sympathy.
Vision
Strategic Goals
Lower

"an open and citizen-friendly agency" that takes a step closer to the public

Deeper

"an agency specializing in content promotion " equipped with professionalism,
efficiency, and fairness.

Wider

"a culture-centered agency" that leads the domestic
and global markets.
Location
Headquarters(Naju)
Address

35, Gyoyuk-gil, Naju-si, Jeollanam-do 58326, Korea

Tel

0082+1566-1114

Bus

- Naju Train Station (1160 Bus) → Innovation City[Get off at kr(Korea Rural Community Corporation)] → KOCCA (It will be on the right side) - Gwangju Songjeong Train Station(1160 Bus) → Innovation City[Get off at kr(Korea Rural Community Corporation)] → KOCCA (It will be on the right side)

Car

Honam Expressway → Jangseong IC(Interchange) → Route 49 → KOCCA
Dispute Mediation Committee/Popular Culture & Art Support Center(Yeoksam)
Address

首尔市 江南区 驿三洞 论岘路448 KOCCA大厦(邮编:138-240)

Tel

1588-2594

Metro

Go down the street in 5 mins from Exit 6 of Yeoksam station (Line2)
Global Game Hub Center(Pangyo)
Address

B-1001, SamHwan HIPEX Pangyoyeok-ro 230, Bundang-Gu, Sungnam-Si, GyeongGi-Do, Korea

Tel

0082+31+778-2051

Metro

Go down the street in 10mins from Exit 4 of Pangyo station(Sinbundang Line)
CKL Planning Center(Daehakro)
Address

Daehakro 57, Jongrogu, Seoul, Korea

Tel

+82-2-2161-0000
CKL Business Support Center(Gwanghwamun)
Address

40, Cheonggyecheon-ro, Jung-gu, Seoul, Korea

Tel

+82+2-6441-3101
DMS(Sangam)
Address

12, World Cup buk-ro 54-gil, Mapo-gu, Seoul, Korea

Tel

+82-2-300-5902

Metro

- Go down the street in 30 mins from Exit 1 of Daehwa station (Line3)

- Go down the street in 25 mins from Exit 4 of Juyeop station (Line3)
Contents Human Resource Campus(Hongreung)
Address

66, Hoegi-ro, Dongdaemun-gu, Seoul, Korea

Tel

+82-2-6310-0600
Bitmaru(Ilsan)
Address

60, Taegeuk-ro, Ilsandong-gu, Goyang-si, Gyeonggi-do, Korea

Tel

0082+31+8073-0107
Contents Human Resource Campus(Hongreung)
Address

66, Hoegi-ro, Dongdaemun-gu, Seoul, Korea

Tel

+82-2-6310-0600
Main Business
Broadcasting
Broadcasting
Documentaries, one-act plays, soap operas, web dramas, MCN, broadcasting formatting
Music
Music
Recruiting of K-Rookies(rising musicians), production of excellent project music, concert support
Game
Game
Online, mobile, hands-on arcades, functionality, VR․ AR, fusion game
Comics
Comics
Discovering of new cartoonists, support for serial publication, comic book publication, comic magazines, and comic platforms
Animation
Animation
Short films, pilots, TV series, feature film animation
Character Licensing
Character Licensing
New character development, character merchandising, related content production
Fashion
Fashion
Support for prototype production and joint marketing of designer brands, and fostering of creative brands
Culture Technology R&D
Culture Technology R&D
Develop cutting-edge technology needed for content creation & distribution
Next-generation content
Next-generation content
Support for development and production of VR content, and fusion creative projects to enhance the global competitiveness of the Korean content industry
CKL Business support center & Academy
CKL Business support center & Academy
Provide education for content creators and serve as an incubator for content start-ups
Human Resource Development
Human Resource Development
Train content creators and support them to start contents business or find jobs
Operate CKL, a laboratory for content creation
Overseas expansion
Overseas expansion
Providing support in localization (including translation, dubbing, and marketing) for global market entry
Host overseas export fair & roadshow and support to participate in major trade fairs
Host international trade fairs including BCWW, MU:CON, and Seoul Character Licensing Fair